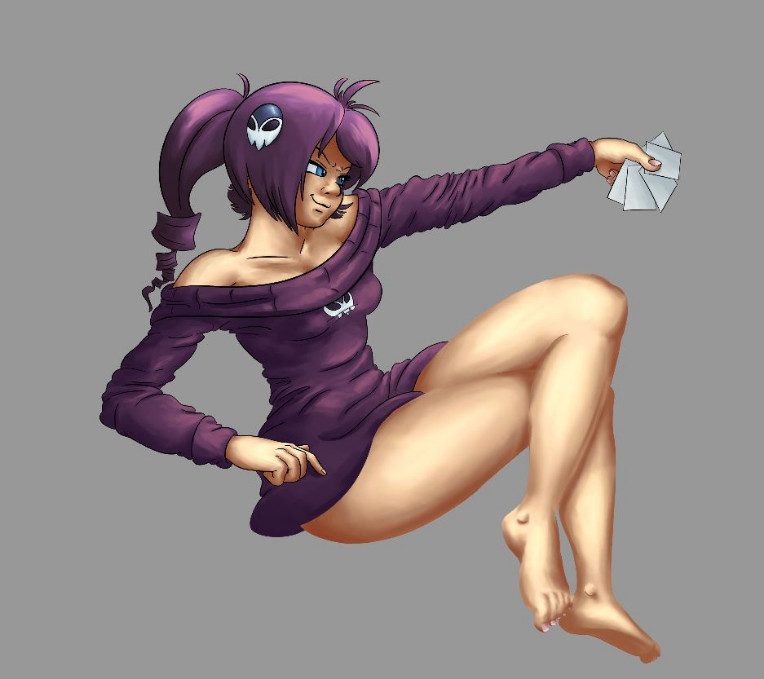 When it came time to paint her sweater it finally dawned on me that I hadn't, nor have I ever in any of my work, kept in mind the color of the light source. I tried shading it using warmer highlights compared to the rest of her and I think it turned out much better - looks a lot less plasticey. I don't know if I'll go back and color every other person over again with that in mind, but I will try to make a note of it for future paintings. Maybe I'll play around with a color balance filter, or at least touch up the highlights themselves. I know I've tried coming up with a step-by-step formula for my work in the past to no avail, but maybe now that I have some more experience I can at least come up with a checklist of things to remember before going, particularly this and also going from broad shading to more precise rather than starting on the tiny details first.
I also completely forgot about the placement of the light source, so I shaded her hair yet again and modified her skin a bit. I may have to reshade Shantae, which would take a lot of time... I'm going to see if it looks okay first. I'd rather chalk up the lesson and move onto the next piece, honestly.
You can see too that I've started blending in the inks around her legs. I tried to speed up that process using a content-aware fill in Photoshop, but I couldn't get it to work the way I wanted so now I just do it by hand. It takes a lot longer than it might seem but it's still a much quicker process than my previous methods.
Right now the skin still looks pretty plastic, but usually that changes once I add in some underlying tones and give it some painterly texture. We're getting close to having all four characters painted, then comes the long arduous process of doing the furniture and background.
One more thing... I don't know if this is really the best place for these, since I feel this widget is made more for larger news posts rather than a personal blog, but until I can come up with a better system then this is where they will go. I still feel like Tumblr is better for this sort of thing, but since they axed adult content there's no point in using it, since that's half my work that I can't post. I would like to make my own site some day, but since I don't really have a fanbase there's not much point.