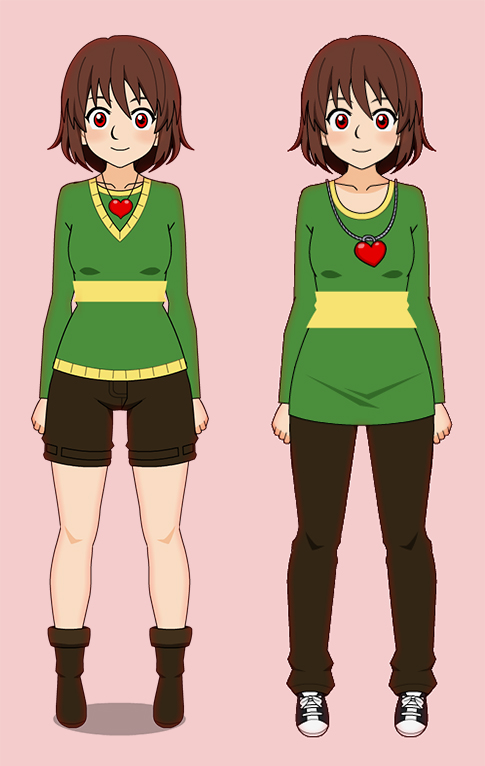 I never thought I'd be spending hours on a paper doll program, but here we are. I'm trying to come up with a better outfit for Chara, since her sweater's kind of janky around the neck area on the left model. That led to me wondering if I could make the hem a little longer since it looks cuter, which led to me giving her pants, next thing I know she's looking almost tomboyish with a nice new heart chain and some stylish shoes. I suppose if I were a game dev at some big AAA studio I'd still be using a proprietary software to make the assets, this is just that but for the everyman. That's what this is, really. I've been doing game design this whole time and not knowing it. Still, when someone asks me, "What do you do in your spare time," I can't really tell them I work on this, now can I. I can just imagine the smile slowly draining from their face as the details poke through.
It feels good to get back into it again though.
John Cleese in his presentation on creativity said that it's important to know just how much time you have because then you know how long you have before you need to make a decision. The more time you have to think about it, the more time you have to try new things and improve. That's nice, and I've certainly improved a lot, but what happens when your deadline for a decision is technically never? I suppose you have to set an arbitrary one, but that's hard when the improvement is constant and new ideas keep coming in. Chara's taken two years of sporadic development and counting, but the difference between her initial model and dialogue and now is huge.
This is the sort of thing I wish I could talk with the other character devs about but I feel like I would just be rambling to people.
I wish I had more time. I could do this all day. I have several times before. Maybe this is my calling and I just refuse to acknowledge it.
One more thing - I've installed Leechblock back onto Firefox which should hopefully curb my bad internet habits. Rather than block sites outright, I've allowed a 15-minute grace period past a certain point in the afternoon, after which sites will still allow access, but only after waiting for two minutes on that window. Trying to switch to a different tab or window stops the counter and forces you to start over. We'll see how well it works.