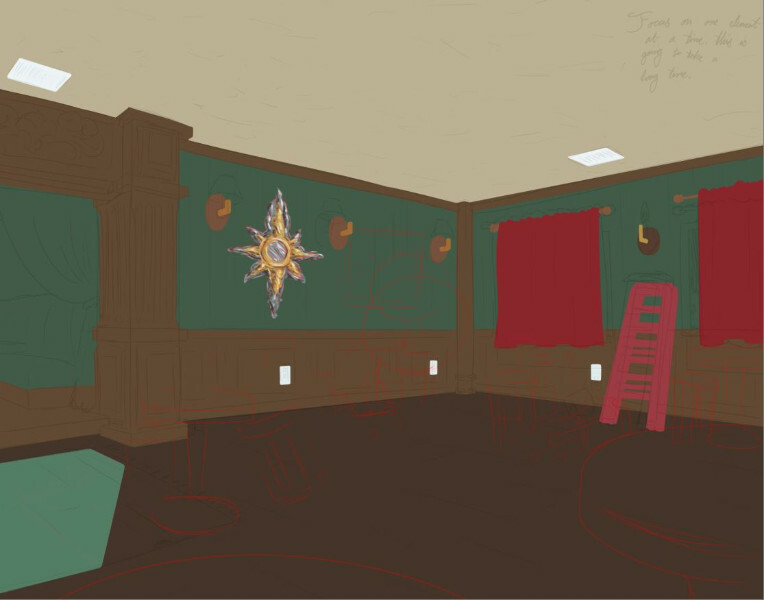 Long weekend is over. Soon it's back to the ball and chain, and with it all its detriments. I feel accomplished this weekend though. I got a lot done.
I spent a lot of time trying to sketch out that ladder because of the perspective, wound up getting a bit frustrated and moved onto other things. By the time I was about to finish I got to the mirror, and I had one of those rare moments where I knew exactly what I wanted it to look like, so I brought out the messy brush and whipped up an impressionistic look, which I achieved by relaxing my eyes so the canvas appeared blurry to me, forcing me to disregard the details and just throw paint on a canvas. Naturally it turned out better than anything else so far. I seem to remember that when I started on this I wanted the background to be fairly detailed and realistic, but now I feel like I want to go the other way. I've had success with that in past pieces; maybe I should just accept that that's what I can do.
I don't like that though. I don't like the idea that we all are good at just one thing and it's a matter of finding it. I like to think that with enough time and effort we can become good at anything. Perhaps the best path is to use the style I know works while experimenting on frivolous things that I don't necessarily expect to become full pieces. Of course, all that takes time which I still have to budget out to other activities.
Haven't done anything with the drawing table today. But nothing caught on fire, which is always a plus.