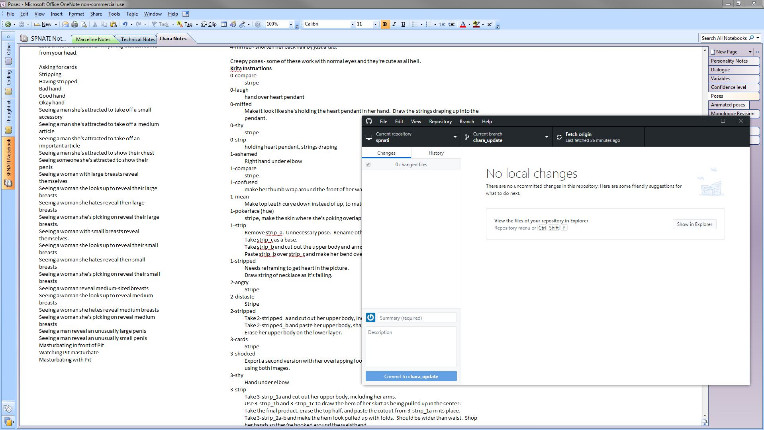 I really feel like I should find a better spot for these. These aren't really news posts, more like journal entries.
It's midnight. I told myself I would go to bed earlier today because I need more sleep, but then I got distracted by the internet. I also told myself I'd work on SPNATI a bit, but even though I got Github Desktop set up with the new Git repository (hopefully for the last time) I wound up getting sitetracked by mindless stuff on the internet and now we're here.
Whenever that happens I tend to have a moment of, "Oh shit, I need to do something productive before I go to bed", but then it becomes a tangled mess of bouncing back and forth between several different things I could do while still being distracted by stuff, thus getting me nowhere. In the past I've tried things like site blockers and auto shutdown timers to try and curb the behavior but I always wind up turning them off. Maybe I should try again. I remember one time I challenged myself to go a week without internet just to see if I could and what would happen. Maybe it's time to do that once more and for longer.
I at least made dinner tonight. If only cooking were my main passion - that's the one thing I'm both decent and confident at. But it's more of a necessity than a hobby. Still, it takes up a lot of time, much like every other responsibility in life. I can be perfectly healthy and active and still be miserable, how about that.
Another good part of today was that I remembered I had set aside a rather sizable chunk of money for a new PC because I wanted to build one, so I actually am beginning research into parts. I've never made one before and I feel very daunted by it, but I want to give it a try.
If I could draw poses for SPNATI instead of having to rely on Kisekae I would say I've found my calling.